OCR/Adventure
Information
When? 11th & 12th May 2024
Where? Prestatyn, North Wales
24 hours - South....along the Offa's Dyke Footpath. How far will you get?
The finish line is unique to you...at exactly 12noon on 12/5/24, 24 hours after the mass race start, the race shall stop and the Solo Runners and Teams furthest South on the National Trail, shall be declared the winners. You can walk, run or a bit of both - the task is simply to endure, and see how far you can get as the clock counts down. For those who want to take part whilst only walking, then an earlier start and finish option of 9am is available, to allow for checkpoint and event management.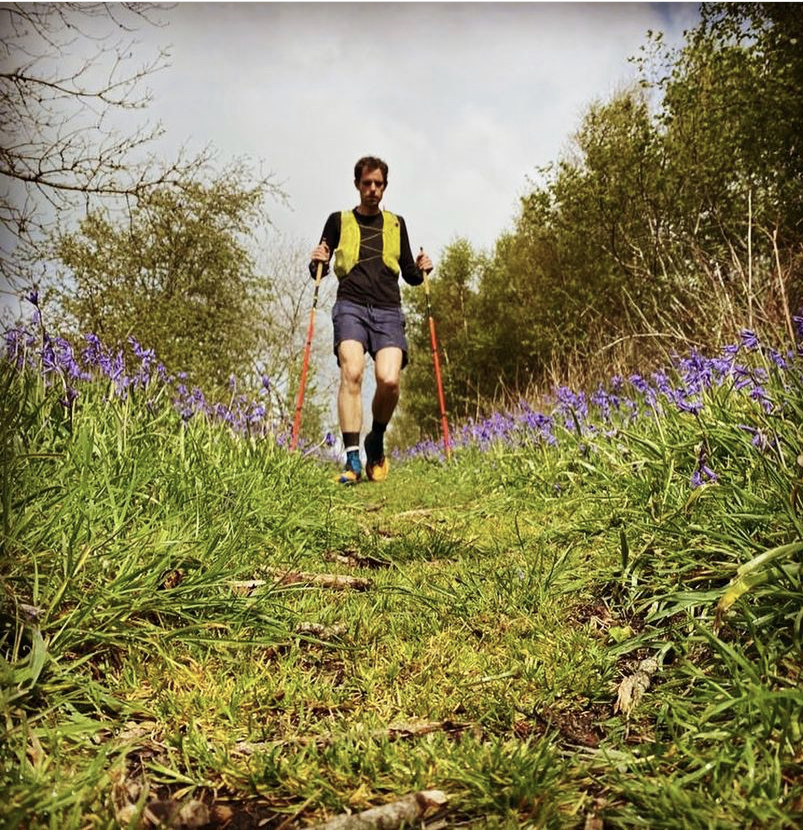 2021 Winner, Andy Mearns towards the end of his 24hr adventure!
Starting on the North Wales Coast at Prestatyn, runners will journey South along the National Trail, with well stocked feed stations and break options along the way - until the 24 hours are up and a halt is brought to proceedings - with GPS trackers allowing us to monitor your progress and determine your finish position on the trail at exactly 24 hours. We will set up support checkpoints with indoor facilities, where we'll have provisions and your drop bags for you, but all participants must have their support driver and vehicle, to collect you at the end of your race. Your support driver/team can meet you at any point and as frequently as you like throughout the event.
Checkpoint locations:
Coed Llangwfan Car Park (16 miles - outdoors), Llandegla Community Hall (28 miles), Froncysyllte Village Hall (43 Miles), Trefonen Village Hall (54 Miles) Forden Village Hall (76 Miles)
The event start and registration is located at the NOVA CENTRE, Prestatyn. Registration and Kit Checks shall take place between 10.30 and 11.30am for a 12 noon prompt, start.
The TEAM ENTRY has a minimum of 2 and a maximum of 4 members. Changeovers can occur at any time, and more than one person can run//walk at a time...but each team member MUST cover a distance. The team event runs alongside the SOLO event, and has the same start and finish times. The advantage of the team setup is that support and transport are more easily arranged.
24 hours - where will you finish up?
WHAT YOU GET OVER THE COURSE OF YOUR 24HR ADVENTURE!
- A STUNNING, CHALLENGING ROUTE TO TACKLE
- GPS TRACKING
- CHIP TIMING
- 5 CHECKPOINTS WITH FOOD/DRINKS AND YOUR DROP BAG AVAILABLE TO YOU
- 24HRS SOUTH MEDAL, AND CERTIFICATE DETAILING YOUR PERSONAL PROGRESS
WHAT YOU WILL NEED.
In addition to the kit list below, a dedicated support driver on hand to collect you from the end of the race.
A kit requirement will be enforced and all runners must carry the following kit with them:
- Full body waterproof cover.
- Survival shelter
- A minimum of 1.5l of water at the start.
- Fully Charged mobile phone.
- Map (provided) and compass.
- Whistle.
- A fully charged head torch.
- Spare thermal layer
- Hat & Gloves.
Offas Dyke path (Mileages)
BODFARI 12.3
MOEL FAMAU 19.5
BWLCH PENABARRAS 22
LLANDEGLA 28.3
TREVOR ROCKS 39
CHIRK 44.3
TREFONEN - 52.3
LLANYMYNECH 58.3
FORDEN 75.9
KNIGHTON 96.3
KINGTON 109.8
HAY ON WYE 124
Start time: 12noon 11/5/24
Finsh time: 12noon 12/5/24
A medal and certificate detailing your route progress and stats will be your mementos, along with memories of a fabulous day on the National Trail!
Challenge Records: Male Solo - Dave Troman 89.42 Miles (2023)
Female Solo - Sharon Spriggs 82.13 Miles (2023)
Team - Off'a 2 Hay 126.7 Miles (2023)
24 Hours South - The Offa's Dyke ULTRA no-group
11/05/2024, 12:00 - 12/05/2024, 12:00

SOLO Entry

£90.00

11/05/2024, 12:00 - 12/05/2024, 12:00

TEAM Entry

£130.00

11/05/2024, 12:00 - 12/05/2024, 12:00

OutFit Member SOLO ENTRY

£0.00

11/05/2024, 12:00 - 12/05/2024, 12:00

OutFit Members TEAM ENTRY

£0.00
Location
Directions
Nova Centre, Prestatyn